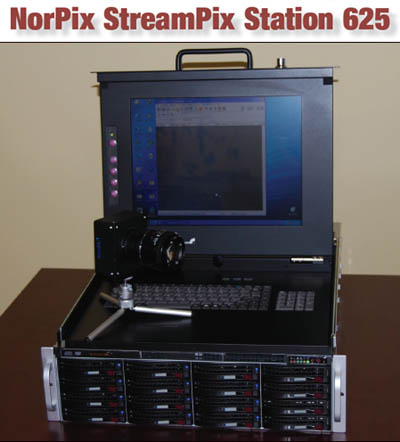 概要
本ビデオレコーディングシステムの特徴を解説します。
・ソフト開発不要のパッケージアプリケーション搭載
・スタンドアローンでの運用が可能
・大容量HDDとRAID運用により長時間レコーディングが可能
・例)1280×1024 500fpsカメラのRAWデータ長時間記録OK
・RAID0(ストライピング)による高速カメラの録画が可能
【解説】
ビデオ録画システムは汎用性が無く、個別にアプリケーション開発を伴う場合があります。
例えばA社の画像ボードとB社のカメラをC社の録画システムへ組み込む場合には、A社B社C社協力の下で
プログラミング作業を行なう必要があり、時間的・費用的コストが増大する結果となり得るのです。
しかし弊社レコーディングシステムでは、既存のアプリケーションソフトが(初期状態で)複数のメーカーの
画像ボードとカメラをサポートします。
よって、顧客はそのリストに含まれる膨大な製品の中から接続機器を選ぶ事が出来るのです。
本レコーディングシステムのみで運用可能です。
従って、別途データサーバー等の設備を必要としません。
(単機のみでほぼ全てのレコーディングに対応する能力を有します)
本レコーディングシステムは、Windows OSがセットアップされるシステム用HDDの他に最大15台までの
複数の画像データ用HDDを搭載します。
これら画像データ用HDDでRAIDシステムを構築し長時間レコーディングや高速カメラへの対応、
複数カメラの同時録画などの高いパフォーマンスを実現します。
因みに画像データ用HDDは最大で30TBを搭載する事ができ、これはRGB24bit / VGA / 非圧縮画像を
約308時間記録できる容量です(JPEG圧縮であれば数倍の長時間が更に可能!)。
サポートカメラ&画像取り込みボード
カメラメーカー
| | |
| --- | --- |
| 1st Vision | MC-F333MT |
| Adimec | Luca EMCCD, iXon+ Back-Illuminated EMCCD, iXon+ 885 EMCCD, Clara Interline CCD, iKon-M Deep Cooled CCD, iKon-L Large Area CCD, iStar ICCD, Newton EMCCD and CCD, iDus CCD, iDus InGaAs PDA Detectors, X-Ray Detection cameras are supported. |
| Andor | All Andor cameras supported. |
| AVT | All AVT cameras supported. |
| Basler | All Basler cameras supported. |
| Baumer | All Baumer GigE and firewire supported. |
| Cooke Corporation | All PCO firewire, Sensicam and Pixelfly. |
| Dage MTI | DC-800, DC-2000, XLV, X16, XLM |
| Dalsa | All Dalsa Genie and Falcon GigE Vision and Camer Link cameras supported |
| Devitech | IR cameras supported |
| Diagnostic Instruments | Spot Insight Firewire Color Mosaic, Monochrome, 3 Shot color, RT, Xplorer, Pursuit, Spot Flex and Boost. |
| DSPCAM | DSP 640xs. Stereo vision camera. |
| Foculus | FO 432B, FO 432C, Foculus 124 C and Foculus 1394a |
| GEViCAM | All GigE Vision cameras supported |
| GigE Vision | All GigE Vision cameras are supported via camera manufacturer proprietary API (Basler, Prosilica, Pleora PureGEV, Jai GigE Vision, GEVICAM, Baumer etc.) |
| Hamamatsu | Orca ER and all IEEE models |
| Iconix | Iconix HDTV 3 chip color camera. |
| IDS | All IDS Ueye cameras supported: USB and GigE Vision. Frame grabber not supported. |
| Illunis | All CameraLink and GigE cameras supported (RMV, XMV, VMV, EMCCD). |
| Imi-Tech | Same model as the Foculus |
| ImperX | All cameras supported including GigE |
| Imaging Solutions Group (ISG) | ISG LightWise Firewire |
| JAI Pulnix | All GigE Vision and camera link cameras supported |
| JAI GigE | All Jay GigE Vision. |
| Jenoptik | Progres Series supported |
| Kappa Opto Electronics | All Kappa cameras supported by StreamPix3, 4 and TroublePix. |
| Line Scan cameras | All line scan cameras supported. |
| Leica | DFC360FX. |
| Leutron Vision | All Leutron Vision GigE cameras supported. |
| Lumenera USB2 series | LU Series with USB2. Updated Adjustments/Settings property pages. |
| Matrix Vision | All mvBlueFOX and mvBlueCOUGAR supported |
| Mightex | All BCN/BCE/BTN/BTE models supported |
| Mikrotron | MC-13xx, Camera Link and GigE |
| Newnex | Firewire distance repeaters |
| Olympus | DP70, DP72 |
| Optronics | Magnafire SP, MicroFire, MacroFire |
| Optronis | All Optronis camera link cameras supported. |
| PCO Firewire | All PCO firewire, Sensicam and Pixelfly. |
| Photometrics | CoolSnap, Cascade, SenSys, QuantEM. |
| Photon Focus | All Photon Focus Camera Link cameras supported |
| Pixelink | PL-A and PL-B series, PL A544 video converter. Color or mono at all frame rates and resolutions. |
| Pixera | Penguin and Pro series. |
| Prosilica | All models supported, GigE and firewire. |
| Point Grey Research | Dragonfly, Dragonfly2, Dragonfly Express, Flea, Flea2, Grasshopper, Firefly MV, Scorpion. |
| Pulnix | TM 6700, 6710 at 120 fps or 9701 |
| QImaging | Retiga, QICAM, MicroPublisher, Rolera |
| QImaging SRV | Supports blackout, high sensitivity mode, and temperature control. |
| Raptor Photonics | All cameras supported. |
| Redlake | MegaPlus2 1394, all ES models. |
| Salvador Imaging | All GigE and Camera Link models, without EMCCD. |
| Santa Barbara Focal Plane | ImagIR LC |
| Scion | 1308, 1310, 1312 monochrome or color. |
| Silicon Imaging | Si: 640, 1280, 1300, 1920 and 3170 |
| Sony | All DCAM compatible cameras |
| Sumix | M150, M7x, M8x, S12A2M, S12A2C |
| SVS-VISTEK | SVCAM-ECO series, SVCAM-GigE series |
| Tattile | TAG Giga Ethernet camera. |
| Toshiba | 1K HD1 HD TV 3 chip color camera. |
| Toshiba Teli | All cameras supported. |
| Uniblitz | Control Uniblitz VCM-D1. |
| Uniq | All frame grabber based models. |
| VDS Vosskuehler | All VDS Vosskuehler cameras are supported with camera link frame grabbers or GigE interface |
| Viewbits | See Sumix cameras. |
| WDM Driver | Added support for RGB8, RGB555, RGB565 and Y800 image formats. |
ボード
Active Silicon
All Phoenix Camera Link and LVDS boards supported.
Bitflow
Karbon-CL, Neon-CL, Alta-AN, R3
Dalsa
Xcelera PCIe series, X64 series, PC2Vision,
PC2Comp, Bandit II-CV, MV, RGB.
Datapath Ltd
VisionRGB-E1, VisionRGB-E2 and VisionRGB-X2
HDMI/RGB/VGA/DVI Capture Cards.
EDT
EDT: Optical repeater RCX C-Link
Great River Technologies
Matrix, HotLink, Gravity FCAV
EMS
PhynxRGB and XtremeRGB VGA/RGB capture cards.
Epix
PIXCI SV5, D2X, CL1, CL2, EC1 and more.
HDMI/RGB/VGA/DVI Capture Cards.
Euresys
All Euresys boards supported: Picolo series,
Grablink series and Domino Series.
Foresight Imaging
AccuStream VGA/RGB/DVI capture card
ImperX
FrameLink pcmcia laptop frame grabber.
Integral Technologies
Spectrim, Flashbus MVPro, DX and MX.
Matrix Vision
Hyperion (single channel), Sigma and Titan boards.
Matrox
All Meteor II Series, Helios, Odyssey,
Solios, Morphis, Vio
National Instruments
All camera link boards.
Pleora iPoint™
iPORT Vision Connectivity Solution.

Pleora GigE
All Pleora GigE compatible devices supported.
Think logical: optical fiber
repeater for camera link solution
Go beyond the normal camera link cable length.
ベンチデータ (書き込み&読み出し性能)
高速な画像レコーディングや、科学的な試験・実験では書き込み性能が重要です。
尚且つ、空き容量が減ってデータ領域が減少した状態でも常に高いパフォーマンスを要求されます。
そこで、弊社ではStreamPix Stationのベンチデータを公表致します。
利用したベンチツールは、常に厳しい評価を下す自作PCユーザーにとって定番の"CrystalDiskMark"です。
様々なWebページや製品紹介ページに於いて、この"CrystalDiskMark"を使った結果の議論が活発に行われております。
よって、本データを公表する事によって弊社取り扱い"ビデオ録画システム"が高速性・長時間記録による耐速度劣化に
優れている事が理解されるのではないかと考えました。
(下記は12台RAID0システムの結果)
| | |
| --- | --- |
| 空き容量100%でのパフォーマンス | 空き容量1%でのパフォーマンスも抜群 |
このように本ビデオ録画システムは、高解像度カメラ・高速カメラ・複数のカメラ同時にレコーディングする用途に優れます。
現在レコーディングシステムをお探しであれば是非お問合せ下さい。